Trinity 7
Foodbank
Please don't forget to bring your contributions to church or the local Co-op shops. Your contributions are still very much needed and really valued.
There is also a call for toiletries - soap, shampoo, shower gel, toothpaste and so on.
Isleham Gala - July 7
The church had two stalls at the Gala. Tombola, preserves & bric a brac. Thank you Angela & Mary who raised over £300.
Advance notice - Galaxy Big Band event Saturday July 28
in aid of Snailwell church
Saturday July 28 in the grounds of the George & Dragon, Snailwell bring a picnic! Gates opens at 5pm – Starts 7pm. Tickets £10 in advance or £12 on the day. Tickets from Maureen Howes – 01638 577456.
Sponsorship requested
Stephen and Carol Taylor's children are partaking in a 100k charity walk in aid of prostate cancer near the end of July. See them for sponsorship forms.
Healing Eucharist - cancelled on Sunday July 15 at Fordham
There will be no Healing Eucharist on Sunday July 15.
Healing Eucharist is on the 3rd Sunday of the month in the evening and is held at Fordham at 6.30pm.
The Monday (was Thursday) Prayer Group - next on July 16
The prayer group which formerly met on Thursdays is now meeting at 1.30pm on Mondays for an hour of prayer. We meet at 1 West Street, Isleham.
Tuesday mornings - opportunites to meet:
Fordham church cafe
From 9am onwards. Refreshments and play area for children.


St Andrew's Isleham Coffee morning at The Social Centre
Tea, coffee, cake and bacon rolls, from 9am-12noon.
Gift Day St Andrew's Isleham - Saturday July 21 - 9am to 5pm
Fordham Day Centre Lunch Club - next on July 25
Fordham Day Centre is a lunch club for older people and meets on the 1st and 4th Wednesday of each month from 10.30am to 2.30pm.
We meet at Withers' Place community room for company, chat and food. Coffee and tea are provided on arrival, then lunch and a cup of tea before you leave.
We have a "mobility" taxi available, if needed, for transport to and from the meetings. The Day Centre is run by volunteers (not carers) who cook and look after the members.
If you are interested and would like to know more about the Day Centre please contact Judith Wood. Tel: 01638 720328.
The Way of Life Study Course - next course starts on July 25
Note: change of starting date
We are going to be running the diocesan study course "The Way of Life" over the next few years. The hope is that everyone who worships regularly with us will complete it at some point.
The next way of life course starts on the July 25 at 7.30pm in Fordham undercroft. We are also hoping to start a way of life course for Isleham in September on Wednesday mornings.
There is a lot of information about the Way of Life study course on the Ely diocese web site:
http://www.elydiocese.org/way-of-life
Vicarage garden party - Fordham on Sunday July 29
Vicarage garden party ay Fordham Vicarage on Sunday July 29 from 2 – 6pm. Tea and cake. Everyone welcome.
Three Rivers' Holiday Club - Tuesday July 31 – Friday August 3
This year the Holiday Club for rising 5's to 11 years will be held at Victoria Hall in Fordahm from 9.30am – 12pm on Tuesday July 31 through Friday August 3.
Contact Revd Sue to register
Holiday Club Social - Friday August 3 at 5pm at Victoria Hall
There will be a Holiday Club Social on Friday August 3rd 5pm at Victoria Hall Fordham - Hot Dog & Ice cream.
Mums+ - next on Friday August 10
Mums+ is a monthly coffee morning for fun, conversation and sharing our questions of life, faith and parenthood – all ages welcome. For more details contact Laura Cox-Watson 01638 724839.
Upcoming dates -
Contact: Laura Cox-Watson 724839.
Messy Church - next on September 9
For families - Crafts, story/song session and a simple meal at Fordham church from 3.30-5.30pm on the second Sunday of the month.
If you know anyone who would like to take part, or you would like to help in any way please do speak to one of the Ministry Team.
We take a break in August and will next meet in September.
........
The institution of the Rev'd David Cleugh - October 20 at Fordham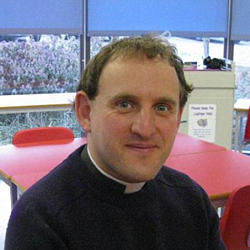 The institution of the Rev'd David Cleugh as Rector of the Three Rivers Group by the Bishop of Ely was held on Friday, October 20 in St Peter and St Mary Magdalene, Fordham.
There was a good turnout with excellent music during the service and splendid refreshments afterwards. Thanks to all who helped to make it a great occasion.
David and his wife Hannah, who is the Senior Chaplain to the Bishop of Ely, will live at the vicarage in Fordham.


Advice and guidance on security for places of worship
"The news from France and the random, cold blooded murder of the Roman Catholic priest Father Jacques Hamel has been a shock to many of us. It is also very unsettling as it is a Priest doing what so many of us do, simply going about our normal ministry. However, that doesn't mean we should be fearful or overly concerned. We do need to be careful. "

The Ven Hugh McCurdy, Archdeacon of Huntingdon & Wisbech and The Ven Dr Alex Hughes, Archdeacon of Cambridge write:

"The police have been working with church leaders in the UK to establish a communication network through which reassurance and guidance to the Christian community can be passed. Last week's murder of a priest in France is a terrible tragedy, but we must use it to test our ability to communicate to this wider network and I want to offer the following advice.
Church leaders and their congregations should remain alert not alarmed.
There is no current intelligence to suggest any attack planning of this nature in this country. However it makes sense for all church leaders to review their security plans and to encourage their flock to be vigilant. Any suspicious behaviour should be reported immediately through 999."
Bishop of Ely's statement on Syrian refugee crisis
Thank you to everyone who focused their prayer last week on the refugee and migrant crisis. Please continue to pray for a sane and just solution.
Suggestions of what we can do as individuals and as churches are included in the Bishop of Ely's statement on the crisis.
Speaking about the Syrian refugee crisis, the Bishop of Ely, the Rt Revd Stephen Conway said: 'The Bible tells us to love our neighbour, but many more times to love the stranger. The Syrian refugees, whether they have made it as far as Europe or not, are our sisters and brothers. We need to offer a Biblical welcome. The refugees' burden of fear, loss and deprivation is our burden. We must find a language of welcome, not suspicion.
'We should be proud of Britain's ongoing commitment to overseas aid and humanitarian relief. We must support people in refugee camps in and around Syria. And we also have a responsibility within Europe to share the burden of countries like Greece and Italy, among the first entry points.
'Britain must participate fully in a European welcome for those who are vulnerable and fleeing violence and oppression. We must welcome all – Muslim and Christians equally; but we should remember that many refugees are Christians from villages which have lived the faith since Apostolic times.
'I invite us all to continue to pray and to consider what other help we may provide, for example supporting one of the charities at work on the ground.'
A number of charities and non-governmental organisations have opened appeals specifically aimed at helping the plight of refugees.
The Foodbank in Soham is open on Thursday mornings from 9.30-11am.
If you would like to find out more about the Foodbank operation in this area just drop in and introduce yourself to Howard Laver or one of the helpers who'll be pleased to tell you all about it.
Your contributions are still very much needed and really valued.
In Isleham we have been collecting an average of over 50 items a week - and one week we had over 100 items - thank you.
Do pick up a bookmark about the Foodbank with a list of what's wanted in church.
Stocks are currently relatively low in the central store at Ely that supplies the Soham Foodbank distribution centre which serves Soham, Fordham, Isleham, Chippenham and the surrounding villages, which receive more food than they contribute.
The Foodbank is always grateful for donations of dry and canned goods with 3 months until use by dates. Gifts of toiletries and pet food are always appreciated too.
At Isleham we welcome donations of food at our Sunday service and at our Coffee mornings at the Social Centre on Tuesday mornings; we can also accept donation of cash.
In Fordham and Isleham, we also have collection boxes in the Co-op stores, so you can also donate there.
If you can't see the box in the Co-op then please ask the staff, it is there, and it would be good to make sure that they are used as much as possible.
Reading the Bible
The website http://3rivers-bible.blogspot.co.uk/p/the-three-rivers.html
Children and Holy Communion
All five PCC's have now agreed that our church family younger children (aged 7 and above) may be admitted to Holy Communion after appropriate instruction.
Muriel Hood and Ruth Ogden have agreed to instruct our young people.
If there are young people in your family who would like to receive communion, then please do speak with
Church cleaning at Fordham
We need some more people to help keep our lovely Church clean and tidy. If you feel you could spare about 1 hour a month to join one of our cleaning teams, please contact Jenny on 01638 720820, to decide where and when you can help.
Pewsheet
If you have items for inclusion in the pewsheet then do speak to any of the Ministry Team, or ring Carol Noble (Group administrator) on Wednesday mornings, when, usually, it is compiled on 01638-721616.
St Peter and St Mary Magdalene, Fordham
More 100 Club Members needed. If you would like to join, or know anyone who would like to join, please speak to our PCC secretary Jane Foulds for more details.

Roger Palmer and the bell ringing team would be delighted to welcome anyone who would like to ring. Bell ringers meet on Thursdays in the tower; please speak to Roger about this.

David Poulter would welcome new members for the choir. The choir meets for rehearsal on Fridays, in the early evening during term time, and sings at the principal service on Sundays and Choral Evensong once a month.

If you would like to help with reading or intercessions then please do speak to Rev'd David or Rev'd Sue.
Fordham Day Centre
Is looking for volunteers to help at the weekly meeting for senior members of our community. If you would like to help then please talk to Judith Wood, Doreen Rule or Rev'd David.
Thefts from our churches
Both Kennett and Chippenham have had substantial amounts of lead stolen from their roofs. A section of Fordham's lightning conductor was also taken, making the building unsafe and unprotected. Do please keep an eye out for any illegal behaviour around our churches and report it speedily both to the Police and to Churchwardens. Vigilance is essential these days I am afraid.
Volunteers
Volunteers are needed to read, lead intercessions, take up the collection, arrange flowers, ring bells, make coffee, welcome newcomers, visit Baptism families etc etc in all our churches. If you would like to help, then please do be in touch with Mike or Kate and we will provide training if necessary and encouragement in any case.