Sundays@6 has combined with St Andrew's Soham to become Sundays@7.
We usually meet in Soham.
Join us for events for fun, food and faith.
Year 6+ welcome.
For more information please speak to the Rev'd Mike Banyard on 01638-721616, the Rev'd Tim Alban-Jones on 01353-720423.
Or join our Facebook page Sundays@7.
..........
Sundays@6 Rave in the Nave in the Styx 2009
Following the success of last year's 'Sponsored Sleep-Over in Church' for Children in Need St.Andrew's, Isleham hosted another fundraising event on Sunday 15th December. Their Rave in the Nave in the Styx, inspired by the huge annual event at Ely cathedral, raised over £400 and everyone involved had a great time.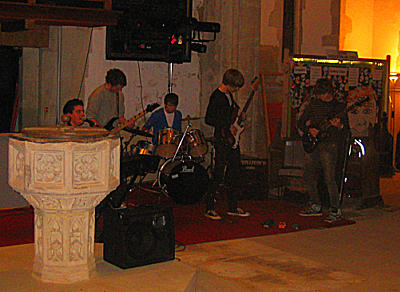 There were three bands; Unauthorised, comprising young people who attend Soham Village College; DOC, an established band of local 17/18 year olds; and The Running Mayfairs, who have played several times at The Junction in Cambridge, all gave their time and expenses for free.
There were wiifit and playstation games, giant jenga, a tuck shop and brilliant disco courtesy of David Bedford. Sylvia and Bob Allen kindly donated and manned the Bungee Run which proved very popular with the young, and not so young! There were several behind the scenes benefactors to whom we are also very grateful.

We hope to make this an annual event and perhaps by holding it on a Friday night and relaxing the age limit we can attract more young people from around the area next year!